May 28, 2019
THE STARMUS EXPERIENCE: KATHRYN GRAY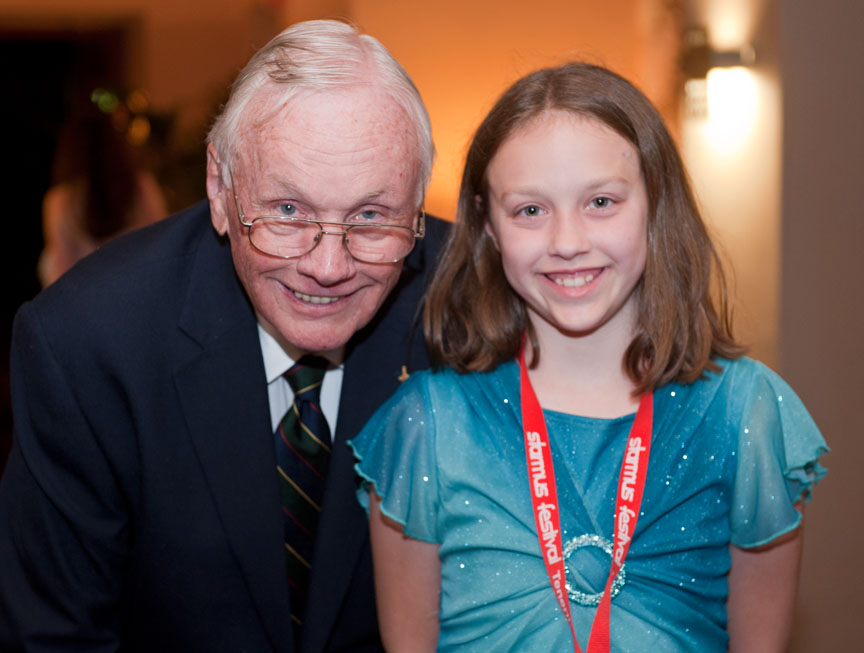 A Life-Time Influenced by Starmus





[caption id="attachment_48067" align="alignleft" width="300"]
Bill Anders/Kathryn Gray/Victor Gorbatko/Neil Armstrong/Jim Lovell[/caption]



Since I was a child, I've always loved the night sky, the ever-dark silk with diamonds twinkling up above the world so high. Perhaps I have my father to thank for that as he is an amateur astronomer and a lover of deep space photography. I grew up surrounded by people who love astronomy and became quite the fan myself. At the age of nine, I began searching for supernovae. It is not your typical after-school activity, but for me, it was the chance to look through hundreds of galaxies and look for the deaths of stars, something that still fascinates me today. I found one when I was ten years old. I was then the youngest person in the world to find one. The weeks that followed were a blur of news interviews and having my picture taken. I've been told it was through these news stories that Garik Israelian discovered my story and decided he wanted me at the first Starmus. My parents received an email and couldn't believe it, they thought for sure that is was fake at first. After realizing this was very real and an amazing opportunity, we decided we could not pass it up. So, they booked plane tickets and off we went to Tenerife, Spain.







If I'm being completely honest, I don't remember everything from the first Starmus. Ten-year-old me was very jetlagged the first few days, but very excited none the less. Garik Israelian wanted me to be a part of the official opening -- he asked me to give a brief speech about how exciting this opportunity is and the youth perspective of it all. For a ten-year-old that's a lot of pressure, but I had my mom help me write down what I wanted to say, and I was set to wear a pretty blue dress with stars on it so I felt like I could do anything at that point. Having been invited by the organizers we were V.I.P guests, thus we were invited to all the fancy dinners with all the speakers attending the conference. I met so many amazing people and made so many memories. There were astronauts, cosmonauts, scientists, and countless other people. I remember the first night of the conference Jill Tarter, the woman behind SETI, came up to my parents and me and told us she has watched some of my interviews on YouTube. She congratulated me and then took me to introduce me to the people sitting at her table. Everyone was very friendly and I felt like I learned so much from them.




One day, after the talks had ended for the day, I ended up talking to Kip Throne and Adam Burrows who were studying black holes and supernovae. I remember asking them questions about what would happen to my supernova and if it would become a black hole someday. They took the time to talk to me and explain the basics of stellar evolution to me. I remember thinking it was very cool.




I can't forget to mention one of the biggest highlights: meeting Neil Armstrong. I can say I met the first man on the moon and I have the picture to prove it! This picture was taken after the VIP gala dinner and it was probably close to midnight, but I was wide awake and almost buzzing with excitement as Garik brought me over to introduce me to him and his wife. They insisted we get a picture and Garik was only too happy to call the photography over. My grandparents have the picture framed on their living room wall to this day.



[caption id="attachment_48068" align="alignright" width="300"]
Neil Armstrong/Kathryn Gray[/caption]



The experience above all else was something incredible, once in a lifetime really. Or so I thought. Two summers ago, in 2017, I was invited back to be a part of the fourth Starmus in Trondheim, Norway! I couldn't believe I had the privilege to go and be a part of Starmus again. Being a high school student at the time, this was a great opportunity to hear about the new research in different fields of science that really interested me. I also got to miss my exams, which was a bonus.  As for what I did when I got there, I was asked to partake in the open city program. This took place in one of the town squares and was focused on giving free presentations to general public and children. I was interviewed about my experiences as a young woman in science, from telling my story to what I've done since and what my plans are for the future in hopes of inspiring someone else. I was later told that the members of the Norwegian Royal family had chosen to come to the program that day because they were told I would be speaking there. That fact had me floored for a while. The Norwegian royal family came to hear me speak -- how many people could say that!



Later in the week (Wednesday evening I believe), Garik invited me to speak at the official closing about how the festival had affected me. Now, this meant I had about two days to figure out what I was going to say, but how could I not have taken that chance to say thank you to everyone who had worked so hard to put on such an amazing week. It's also worth mentioning there were about three thousand people at the closing, many of which were world-renowned scientists and people I idealize. So, you could say I was a little anxious. I was supposed to be backstage two hours before the closing to get ready -- that meant I got to spend about an hour hanging out with Garik as well as Teri Verts who was the final speaker. It was a really interesting experience to talk with them in private and those are some conversations I will never forget.
Another highlight from that week had to have been meeting and talking to Sara Seager, who researches exoplanets! I loved getting the chance to ask her questions and hear about the work she was doing at the time. I still make a point to keep up with the projects she was a part of because I think it's very interesting. She inspired a math project I did in grade twelve about how many planets are out there and what the odds are that they are harboring alien life forms.
I also got to meet so many other amazing and intelligent people -- people I could only imagine before Starmus. I owe so much to the organizers. Starmus has changed my life completely.
If you had asked me two days before the festival what I wanted to be when I grow up, I'd tell you I wanted to be a nurse. If you had asked me two days into Starmus I would have told you I wasn't sure yet. If you had asked me at the end of the week, I would have told you I wanted to study astronomy -- hopefully astrophysics. Starmus IV changed my mind in less than a week. These amazing people inspired me to pursue what I was really interested in and now I am studying astrophysics in university.
I cannot begin to express how grateful I am to these wonderful people for the work they do and the people they inspire. The whole festival runs smoothly and there is always so much to learn every time. I cannot wait to attend Starmus V in June!
Kathryn Gray.