June 13, 2019
Elon Musk Receives The 2019 Stephen Hawking Medal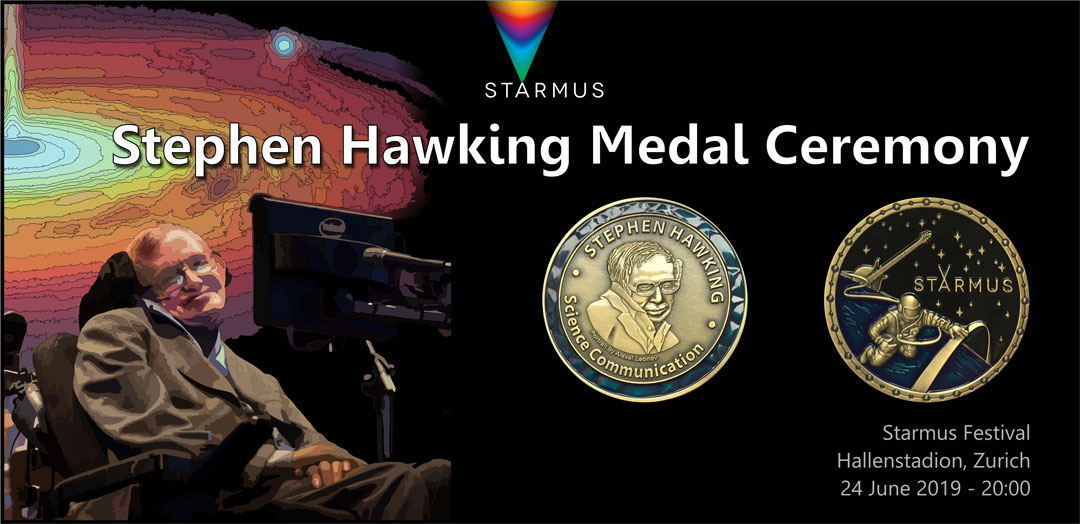 (Brian May, STARMUS co-founder, will personally award Elon in Zurich, June 24th at the opening of STARMUS V)
Zurich, Switzerland—The STARMUS festival announced the 2019 winners of the Stephen Hawking Medal, one of the world's most celebrated science communication awards. This year's recipients are:
Elon Musk for his astounding accomplishments in space travel and for humanity
Brian Eno for the bold reissue of his landmark 1983 album Apollo: Atmospheres and Soundtracks
Apollo 11, a documentary by Todd Douglas Miller, for its breakthrough look at history's most famous space mission
Elon's accomplishments in science were always noted and admired by Stephen Hawking and the STARMUS board, earning him this year's Stephen Hawking Medal for Science Communication. Stephen Hawking personally chose Elon for this award before his passing last year.
"Elon's recognition is a great pleasure for STARMUS. Our goal is to bring more light to this world through music and science and Elon's contributions to science are legendary. His will to create and pioneering in development will forever echo in history. It's an honor to have Elon join us for these important celebrations." Dr. Brian May
One highlight among many expected at this year's medal ceremony will be a one-of-a-kind performance conducted by musical-giant Hans Zimmer (and special guests), featuring his original composition "Once Upon a Time on The Moon," an incredible 50th anniversary tribute to the Apollo missions and those who made them possible.
This year's awards are the first bestowed since the passing of Stephen Hawking; they are dedicated to his legacy and given in recognition of his affinity for applied technology. Previous recipients of the Stephen Hawking Medal include Mr. Zimmer, Neil deGrasse Tyson, Jean-Michel Jarre and The Big Bang Theory.
The press announcement event will happen in Zurich, June 24th at 10:30 (GMT+2). Interested media should contact the number below to arrange special, select interviews.
**STARMUS extends a special thanks for the amazing support from its title sponsors, CQS, Kaspersky Labs and Omega.**
Press conference for Apollo Astronauts/ Medal winners Monday, June 24th at 10:30 am
WHAT: ELON MUSK RECEIVES THE 2019 STEPHEN HAWKING MEDAL

WHERE: SAMSUNG HALL, Hoffnigstrasse 1, Dubendorf · 8600 Zurich

WHO: ELON MUSK, TECHNOLOGY ENTREPRENEUR, INVESTOR AND ENGINEER
WHEN: -MONDAY, JUNE 24TH 10:30 - 1:30: PRESS CONFERENCE FOR APOLLO ASTRONAUTS/ MEDAL WINNERS -MONDAY, JUNE 24TH 20.00 - 21.00: MEDAL CEREMONY "STEPHEN HAWKING MEDAL FOR SCIENCE COMMUNICATION"
CONTACT:  Marco Larsen
                      CEO, PUBLIC NYC

                      marco@publicnewyorkcity.com


                      Melissa Iglesias

                      Account Executive, PUBLIC NYC

                      melissa@publicnewyorkcity.com