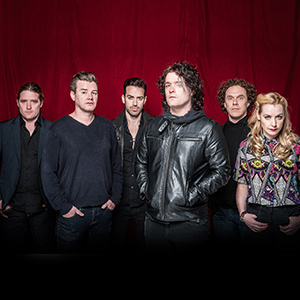 artist
Anathema
Progressive Rock Band
Formed in 1990, Anathema have long lived up to their name: a band that transcends transient fashion in favour of the tireless pursuit of songwriting perfection, sonic substance and the wide-eyed conquering of new musical ground.

Initially hailed as pioneers of an entire sub-genre, Anathema have spent the vast majority of their career making music that defies description and easy pigeonholing. Quietly progressive and perpetually focused on new horizons, the band have been steadily and constantly evolving: they embraced languorous Floydian hues as far back as the mid 90s, when such things were wildly unfashionable, and have since become one of the UK's most cherished and critically acclaimed rock bands; their mastery of melancholy, melody and spine-tingling atmosphere setting them proudly apart from their erstwhile peers and, as progressive music entered a new phase of credibility and renown in the 21st century, propelling them to the forefront of a nebulous but increasingly adored musical movement. Mid-period albums like  'Judgement' (1999), 'A Fine Day To Exit' (2001) and 'A Natural Disaster' (2003) strengthened their reputation beyond all measure, but it was the startling evolutionary leap of 2010's 'We're Here Because We're Here' – famously mixed by modern prog's undisputed high priest, Steven Wilson – that firmly and finally established Anathema as a unique force in modern music; the sheer, sparkling brilliance of songs like 'Dreaming Light' and 'Thin Air' forging a potent connection with an ever-expanding audience. That breakthrough was consolidated by the release of 'Weather Systems' in 2012 – yet another bold stride into fresh territory that sealed the band's status as being among the modern era's foremost songwriters and musicians.

With their star rising ever higher, Anathema return in 2014 with what will surely be recognised as their finest album to date. Produced and mixed by Christer-André Cederberg at his own Cederberg Studios in Oslo, Norway, the tenth Anathema studio album bears the title 'Distant Satellites' and is as gloriously realised and painstakingly crafted as any in their illustrious canon. Furthermore, it showcases yet another imperious forward step into the realm of miraculous songwriting.

Always keen to move forward within their musical world, Anathema declined to repeat the formula that made 'We're Here Because We're Here' and 'Weather Systems' such huge successes this time around. Although they worked with Christer-André Cederberg again, not to mention using the incredible talents of Steven Wilson to mix several tracks and employing the legendary services of Dave Stewart to create the new album's extraordinary orchestral arrangements, the overall feel of 'Distant Satellites' is much more restrained and stripped down than its predecessors, as Danny Cavanagh explains.

"This album is more stripped back and that was conscious. We thought it was time to strip the elements back, so unless something really needs to be there we're not gonna put it on," he says. "It was a bit of the Radiohead 'Kid A' approach. 'OK Computer' was very dense and layered, and they came back with this stripped back recording that was based and built around the vocals and it wasn't totally jammed and multi-layered. AC/DC have a similar simplistic approach – take a few simple elements and make them sound huge. Believe it or not, one of the working titles for this album was 'Kid AC/DC'!"

Regardless of production techniques and changes in approach, 'Distant Satellites' will be instantly recognisable to Anathema's global army of fervent acolytes as another chapter in this band's remarkable story, not least because their unerring ability to write songs that tug at the heart-strings and evoke the overwhelming power of real life emotions remains as potent as ever. With a few brave strides into uncharted territory, not least the experimental electronica-driven surge of the album's stunning title track, they seem increasingly capable of finding new ways to touch our hearts and souls. Ultimately, Anathema are not a band concerned with erecting some perverse artistic façade: instead, they convey the highs and lows of life with disarming honesty and sincerity, and 'Distant Satellites' is their most evocative and moving body of work so far.

"It all comes from the heart and all the songs are pretty much autobiographical in one way or another," Danny explains. "We don't really tell stories and we never have. Everything we write is real and this album is no different.. Life isn't always easy and, to paraphrase the meaning behind the weather systems songs, there's been some shade and colour in the skies and rain in the clouds along the way, and these songs continue to reflect that."

Destined to be one of the most celebrated and acclaimed albums of 2014, 'Distant Satellites' is the work of a band whose collective love of making music and sharing its intangible magic with others grows stronger by the year. With their popularity and renown increasing alongside that ever-growing enthusiasm for their art, Anathema look certain to make that essential connection with many more people this time around and, if the planets align and Lady Luck looks their way, they may just surprise themselves and their devoted fan base and conquer the world. But if not, they remain one of the few modern bands whose music is manifestly made to endure forever.