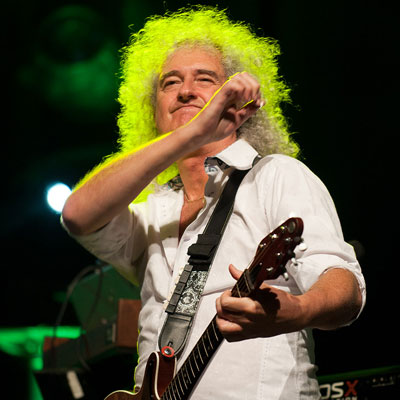 artist
Brian May
Musician and astrophysicist
Brian May, CBE (born 19 July 1947) is an English musician, singer, songwriter, astrophysicist, and photographer. He is best known as the lead guitarist of the rock band Queen. He uses a home-built electric guitar called the Red Special. His compositions for the band include "We Will Rock You", "Tie Your Mother Down", "I Want It All", "Fat Bottomed Girls", "Flash", "Hammer to Fall", "Save Me", "Who Wants to Live Forever", and "The Show Must Go On".
May was a co-founder of Queen with lead singer Freddie Mercury and drummer Roger Taylor, having previously performed with Taylor in the band Smile, which he had joined while he was at university. Within five years of their formation in 1970 and the recruitment of bass player John Deacon completing the lineup, Queen had become established as one of the biggest rock bands in the world with the success of the album A Night at the Opera and its single "Bohemian Rhapsody". From the mid-1970s until the early 1990s, Queen were an almost constant presence in the UK charts and played some of the biggest venues in the world, most notably giving an acclaimed performance at Live Aid in 1985. As a member of Queen, May became regarded as a virtuoso musician and he was identified with a distinctive sound created through his layered guitar work.
Following the death of Mercury in 1991, Queen were put on hiatus for several years but were eventually reconvened by May and Taylor for further performances featuring other vocalists. In 2005, a Planet Rock poll saw May voted the 7th greatest guitarist of all time. He was ranked at No. 26 on Rolling Stone magazine's list of the "100 Greatest Guitarists of All Time". In 2012, May was ranked the 2nd greatest guitarist of all time by a Guitar World magazine readers poll.
May was appointed a Commander of the Most Excellent Order of the British Empire (CBE) in 2005 for "services to the music industry and for charity work". May was awarded a PhD in astrophysics from Imperial College London in 2007 and was Chancellor of Liverpool John Moores University from 2008 to 2013. He was a "science team collaborator" with NASA's New Horizons Pluto mission. He is also a co-founder of the awareness campaign, Asteroid Day. Asteroid 52665 Brianmay was named after him.
May is also an animal rights activist, campaigning against the hunting of foxes and the culling of badgers in the UK.