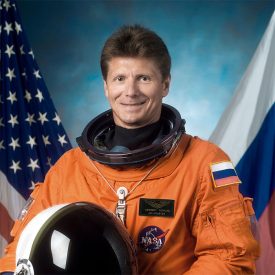 speaker
Gennady Padalka
Cosmonaut
Gennady Padalka  is a Russian Air Force officer and an RKA cosmonaut. Padalka has spent 879 days in space, more than any other person. He worked on both Mir and the International Space Station.

Padalka is a recipient of the Hero Star of the Russian Federation and the title of Russian Federation Test-Cosmonaut. He is decorated with Fatherland Service Medal fourth class, Medals of the Russian Federation and also Medal of the International Fund of Cosmonautics support for Service to Cosmonautics. Padalka is a prize winner of the Russian Federation Government in the field of science and technology.

Gennady Padalka was selected as a cosmonaut candidate to start training at the Gagarin Cosmonaut Training Center in 1989. From June 1989 to January 1991, he attended basic space training and in 1991 was qualified as a test-cosmonaut. In April 2017, it was announced that Padalka had filed his resignation from the Roscosmos cosmonaut corps.