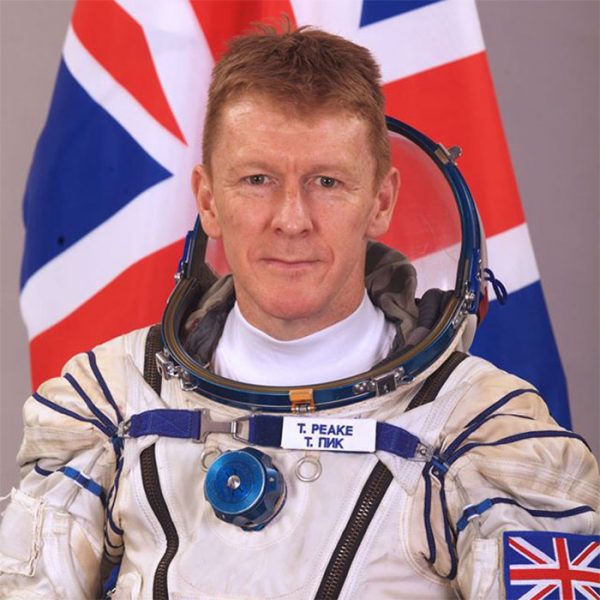 Born in Chichester, England, on 7 April 1972, Tim is married with two sons. Among his leisure activities he enjoys skiing, scuba diving, cross-country running and climbing. Other interests include quantum physics and aviation.

Education

Tim completed his secondary education at Chichester High School for Boys in West Sussex, England, in 1990. In 1992, he graduated from the Royal Military Academy Sandhurst as an officer in the British Army Air Corps. Having been selected for test pilot training, he graduated from the Empire Test Pilots' School at Boscombe Down in 2005. He received a Bachelor of Science degree in flight dynamics and evaluation from the University of Portsmouth in 2006.

Special Honours

He was appointed Companion of the Order of St Michael and St George (CMG) in the Queen's 2016 Birthday Honours for services to space research and scientific education.

Experience

Upon becoming an Army Air Corps officer in 1992, Tim served on attachment with the Royal Green Jackets as a Platoon Commander in Northern Ireland before beginning flight training. He was awarded his Army Flying Wings in 1994. He flew on military operations in the Former Republic of Yugoslavia and Afghanistan. As a test pilot, he was involved in numerous test flights on many different types of military helicopter.

On retirement from the British Army as a major in 2009, Tim was employed as a senior helicopter test pilot for AgustaWestland. During his career, he has logged over 3000 hours' flying time on more than 30 types of helicopter and fixed wing aircraft, including the Hawk, Dakota, Harvard and Mi-17. He holds a private pilot's licence and maintains his flying.

Tim was selected as an ESA astronaut in May 2009. Along with his five ESA classmates, he graduated from astronaut basic training in November 2010. Tim spent three years conducting further training and working as a communicator with the International Space Station prior to his assignment to a long-duration mission in 2013.

Spaceflight

Tim was the first British ESA astronaut to visit the International Space Station, launching on a Soyuz rocket on 15 December 2015 with crewmates Tim Kopra and Yuri Malenchenko. His Principia mission was an eventful and busy six months in space. In the first month, Tim conducted a spacewalk to repair the Station's power supply. Other highlights of his mission saw him drive a rover across a simulated Mars terrain from space and he helped dock two spacecraft.

Tim took part in over 250 scientific experiments for ESA and international partners during his mission. His Principia mission also focussed on educational outreach, engaging more than 1.6 million schoolchildren across Europe in over 30 projects during his time in space. Tim also ran the London marathon using the space station's treadmill.

Tim returned to Earth on 18 June 2016.

Current assignment

Tim is now working at ESA's European Astronaut Centre in Cologne, Germany, as Astronaut Operations Team Lead.