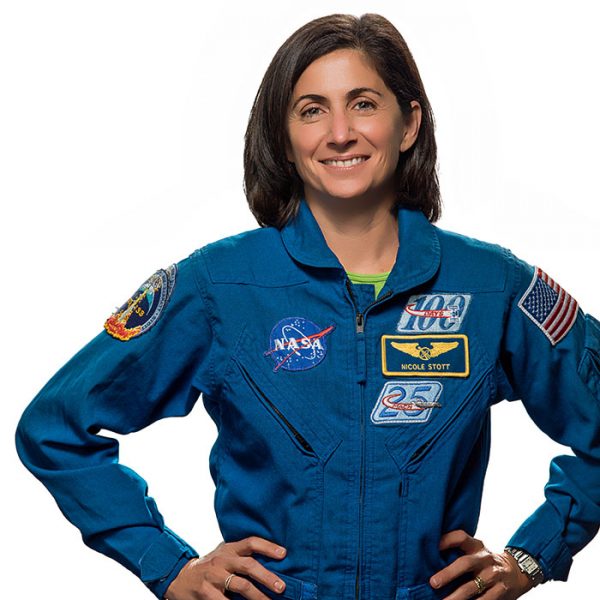 speaker
Nicole Stott
Astronaut and Artist
Nicole Stott has explored from the heights of outer space to the depths of our oceans. In awe of what she has experienced from these very special vantage points, she has dedicated her life to sharing the beauty Earth with others. She believes that sharing these orbital and inner space perspectives has the power to increase everyone's appreciation of our role as crewmates here on Spaceship Earth.

A veteran NASA Astronaut, her experience includes two spaceflights and 104 days spent living and working in space on both the International Space Station and the Space Shuttle. She performed one spacewalk, was the first person to fly the robotic arm to capture the free-flying HTV cargo vehicle, was the last crew member to fly to and from their ISS mission on a Space Shuttle, and she was a member of the crew of the final flight of the Space Shuttle Discovery, STS-133. A personal highlight of Nicole's spaceflight was painting the first watercolor in space; which is now on display at the Smithsonian Air and Space Museum in DC.

Nicole is also a NASA Aquanaut, who in preparation for spaceflight and along with her NEEMO9 crew, lived and worked during an 18-day and longest saturation mission to date on the Aquarius undersea habitat.

As an Artist, and now retired from NASA, Nicole combines the awe and wonder of her spaceflight experience with her artwork to inspire creative thinking about solutions to our planetary challenges, to raise awareness of the surprising interplay between science and art, and to promote the amazing work being done every day in space to improve life right here on Earth. She is the founder of the Space for Art Foundation.