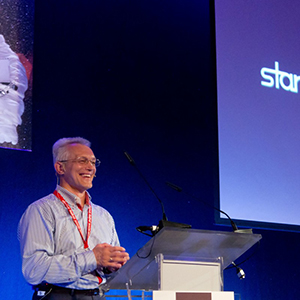 Sergei Zhukov is Executive Director of the Space Technologies & Telecommunications Cluster of the Skolkovo Foundation and a Member of Russian Academy of Cosmonautics.
From Dzhezkazgan, in Kazakhstan (now the landing site for Soyuz landing modules), Zhukov graduated from Bauman Moscow State Technical University and did post-graduate work on gas core nuclear installations for space applications. Since 1990, he has been President of the Moscow Space Club, a non-profit NGO aiming to support national and international space activities.
He was instrumental in founding the Russian Space Agency (established in 1992) and has been an active member of Russian Cosmonaut Court since 2003. He has graduated in courses at the Gagarin Space Training Centre and is qualified as a test cosmonaut. He has published two collections of poems and authored several scientific articles.